Reviews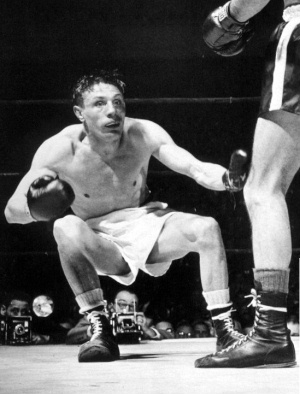 Blending melodious pop inspirations with artful visions of alternative rock, the Boxers eventually deliver distinctly styled themes adjoined by their message-full lyrics. Their music expresses their major inspirations, going from the symbolic rock creations of David Bowie to the visionary inflections of the Who. -All Music Guide
Reviews of The Boxers (1999):


Sweet nuthins performed by a young man who sounds too shy to tell that special someone how he feels. Sentimental lyrics bejeweled in pretty guitar melodies like these are almost heart-stealing. Keep playing -- you'll get the girl yet. -Listen.com

This slim collection of three songs shows fat promise. Sensitive and structurally innovative --- listen to the shifts of tempo and tone in "The Waitress" --- these songs create cinematic pictures of monochromatic power in which mood tells the story. Picture empty rooms in which, long ago, elegant balls were staged, now all dust, light and vast polished floors. In these spaces Ian Edwards' voice, at once plangent and raw, vibrates and swoops, reaches for dialogue, fails, reaches again. Displaying the most pleasant sort of melancholy, these songs only grow with repeated listenings. Comparisons seem inevitable, though I will make none, but I will say that this collection will quickly strike the listener as familiar in the best way. That which is new and striking often seems inevitable. -Peter Cline, Tite Street
BeSonic review of "The Boy With Powers Of Invisibility"


Sounds very british - even though they're American. Despite a pinch of melancholia, it's still fresh. Simply irresistible.-Cat*


Garageband.com reviews of "The Boy With Powers Of Invisibility"


Good melody
I love the melody of this one. It's very flowing. I'm listening again before i finish the review. That means something caught my attention. Well it's very smooth and I didn't want it to end when it did. That says alot.--ibjamie, Lake Forest, CA

Mellow down easy
Good tune, well produced, kinda mellow, kinda good hook, catchy enough to remember. I'd like to hear more to reserve full opinion. But not bad at all!--johnthebapfish, Glasgow, Scotland


Garageband.com reviews of "Someday"


Elvis does the Beach Boys on acid
This is definitely original, at least for the 2000's. Takes me back a bit to some of the 50's steel guitar works by Elvis the Pelvis. Mellow but okay. Definitely fits the alternative mold.--wouldntmind, Aberdeen, WA

Cool old feel
Grabbed me from the beginning. Great job.--gizmo, Salt Lake City, UT

Beautiful!
Not that it needs it, but a solo would make this 110% perfect. Wonderful song.--drewcab, Pomona, CA

A supple skeleton
Singer sounds like Rufus Wainright and Morrissey (I'm not making a statement that the singer sounds gay...) sung in a style similar to Patsy Cline. The chord changes are beautiful. I don't think the arrangement is very "alternative," this is actually a country neoclassic...--cradle_pimp, San Diego, CA

Interesting
I dig the country style singing mixed with the surf style guitar. Easy to listen to. Nice lyrics too. I don't really listen to this kind of music much, but it's nice. --Chewbaca, Colorado Springs, CO


Garageband.com reviews of "Alexa"


Reniassance
Thought about castles/knights/dragons/& shit during the cool guitar intro. Sweet sweeeeet instrumental break. Bonus. A lo-fi Gin Blossoms feel to the track. Good rhythm, and generally cool guitar rhythms... Good emotional song, that would fit on alternative radio.--super_enthused, Sandy, UT

Just take a good listen
The lead-in is great. This a great slow song just to sit down and listen to. People need to do more listening, your lyrics have a lot of feeling to them.--rocket292, Delhi, Ontario, CA


Garageband.com reviews of "The Waitress"


I'm in love with this song
With a very short intro the vocals kick in soon into the song. The vocals are nicely sung and the backing vocals definitely add another dimension. The melody is good but you do get the impression that a GREAT melody is just bursting to get out. The chorus is suitably different from the verse to keep us interested... The lead segment is quite good but not too pretentious. The song does give off a great feeling and the mood is spot on. Getting towards the end of the song the chorus is really catchy!--cleaner, Leicester, UK

Very brit
This is a song that Morrissey or Frank and The Walters could have sung. I like the break alot... very solid, and the guitar solo, though short, is very emotional, a la Santana. And then to come back to the original tune with a key change is a nice touch... Overall, one of the strongest songs on this site! --Basura47, Alexandria, VA

This is something to listen to!
I take my hat off to you... Although this song does sound like it comes out of the 60`s, THE HOOK IS THERE whether we like it or not! The sound of the band matches very good together... All in all, your song I didn't like, but your will power to record this track........I think I could learn something from you. --msd3x, Frankfurt, Germany

I hope you get your waitress!
The guitar work is nice. The singer sort of sounds like the lead singer to the OCEAN BLUE, which is a good thing. There are some nice elements to this song... the lyrics are sort of silly, but I guess that was your intension, I hope! Nice job.--vintagedivva, Farmington, CT

You'll love it, You'll hate it!
It sounds really great! I also said it was irritating. It is all so funny. It's cheesy, but I am very endeared to it. It is a really cute song. I may tell others about this song.--bigredband, Fort Wayne, IN

A little bit old
The way the guitars are played is extraordinary, however the new trend is separating from the oldies 60's, and fortunateley or unfortunately are stuck in the 80's, early 90's. That is why I think it sounds a little bit old, but the lyrics and melody are fine.--reygadas, Miami Beach, FL

Bopping
Its a tune that makes me want to dance and sing along. I like it, because I'm lazy and hard to inspire. As I type this, I'm bopping my head back and forth!--chemicalis, Oshawa, Ontario, CA
BACK TO MAIN